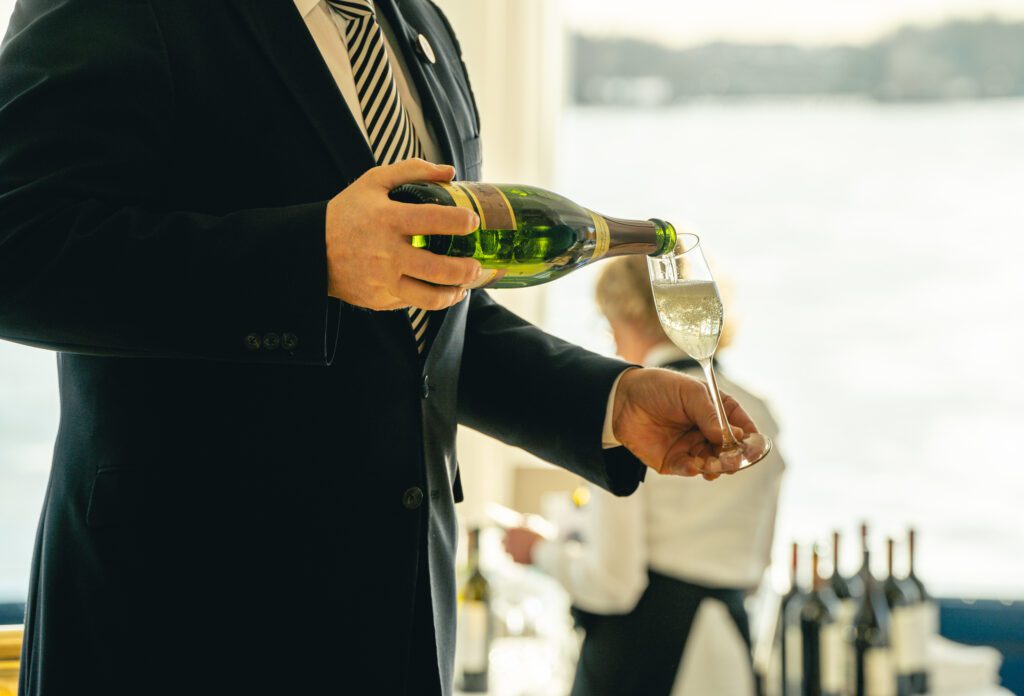 Dinner menus 2023
Kulosaaren Casino is a truly unique seaside events venue that is open all year round.
We offer the perfect setting for all occasions from conferences to intimate family celebrations.

The legendary Kulosaaren Casino has hosted parties and celebrations for more than a century.
Delicious food and drink have also been an essential part of how things are done here.
We will work with you to make sure your special occasion is exactly what you have in mind.
Menus are available for parties of 25 guests or more.
We recommend the same dinner menu for the whole party.
CANAPÉES WITH APERITIF 4,20 € each
Salmon & Ginger (L)
Foie Gras & Fig (L)
Reindeer & Cranberry (L)
Goat Cheddar & Apricot (L)
Pumpkin & Chili (V)
Coffee and tea 4,80 € / guest.
Cloakroom service is 3 ,50€ / guest.

Wine recommendations are not included in menu prices. Please note that vintages may vary.
MENU BRÄNDÖ 51€
(Vegetarian / Vegan menu)
Butternut squash tartar, roasted chickpeas, pickled fennel and cucumber (V, G)
***
Porcini patty, savoy cabbage, roasted parsnip and cashew hollandaise (V)
***
Apricot flavoured chocolate mousse pastry with raspberry (V)
MENU CLASSIC 56,00 €
Pumpkin soup seasoned with star anise, goat cheese and nuts (VL, G)
***
Simmered pike perch with crayfish sauce, purée of almond potato, cauliflower (L, G)
***
Cloudberry frangipane, liquorice and lemon meringue (L)
MENU CASINO 61 €
Casino's fish plate, white fish roe and new potatoes (L)
***
Finnish fillet of beef, potato fondant, smoked celeriac purée and dark bay leaf sauce (L, G)
***
Milk chocolate pannacotta, blackcurrant and granola (VL)
MENU SCANDINAVIA 65 €
Napue gin marinated salmon tartar, white fish roe mousse, pickled fennel and cucumber (L,)
***
Rosé baked reindeer steak, over cooked reindeer shank, celeriac and dark cranberry sauce (L,G)
***
Piece of Finnish cheese with cherry jam (L,)
***
Nettle cake, choke berry and spruce "snow" (L)
Please order your menu not later than a week prior to your arrival.
The number of guests booked 48 hours prior to your reservation is a minimum
amount of people charged and added to your invoice.

Please let us know any dietary requirements within your party in advance, if possible.
Please let us know the method of payment in advance, when possible.
All prices are inclusive of VAT. The prices for food and non-alcoholic beverages include VAT at 14%.
For all other items, VAT is charged at 24%.
Our prices are valid until further notice and we reserve the right to make changes at any time.