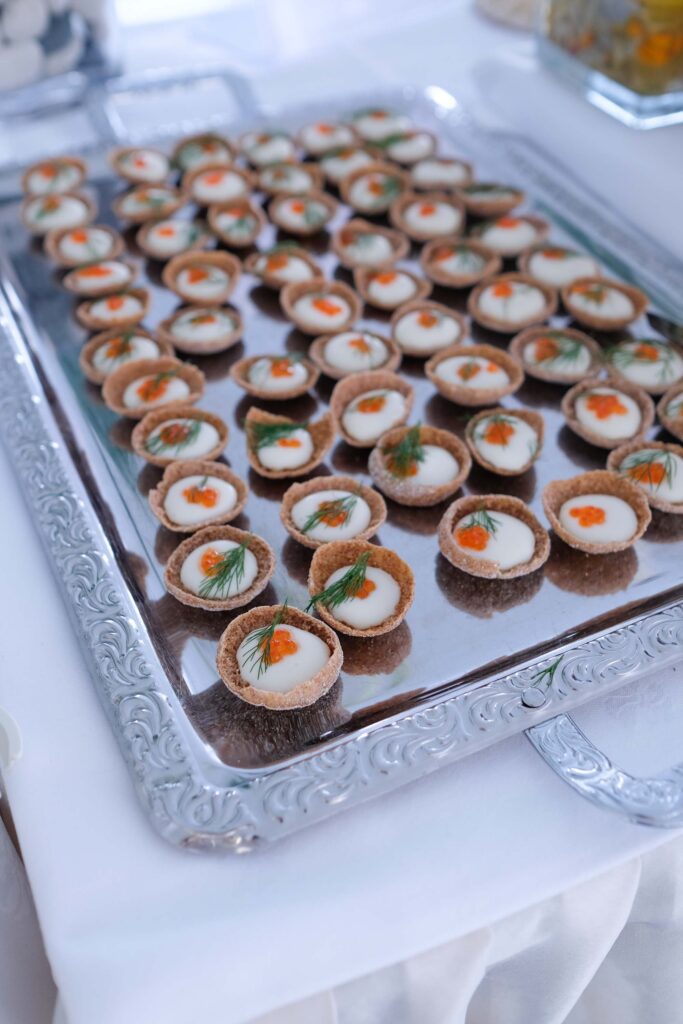 Buffet menus 2023
Canapées with aperitif, 4,20 € / each
Pumpkin & Chili (V)
Salmon & Ginger (L)
Foie Gras & Gig (L)
Reindeer & Cranberry (L)
Goat Cheddar & Apricot (L)
BUFFET CASINO 49,00€ / person
Starters
Green salad with sprouts and herb vinaigrette (V, G)
Smoked salmon with Caesar salad (L, G), croutons (L)
Cocktail meat balls seasoned with smoked pepper and Harissa aioli (L, G)
Semi dried tomatoes with mozzarella seasoned with truffle oil (V, G)
Roasted pumpkin, Beluga lentils and spinach (V, G)
Roasted artichoke, beetroot quinoa and soybeans (L, G)
Casino´s Focaccia and hummus V

Main Dish
Glazed pork cheek and dark mustard sauce (L, G)
Roasted potatoes and kale L, G

Dessert
Yogurt pannacotta, marinated berries and pistachio (L, G)
Coffee & tea 4,80 € /person
BUFFET BRÄNDÖ 52,00€ / person
Starters
Green salad with sprouts and raspberry vinaigrette (V, G)
Dill marinated shrimps with cucumber and horse radish sauce (L, G)
Warm smoked salmon with lime sour cream sauce (L, G)
Thyme marinated chicken with spinach pesto (L, G)
Cabbage and apple salad with tarragon (V, G)
Farm cheese, sea buckthorn berries, lettuce and walnuts (L, G)
Potato salad with crispy chorizo (L, G)
Casino´s assortment of bread and butter (L)

Main dish
Sesame seasoned salmon with cucumber yoghurt sauce (L, G)
Potatoes and spinach with horse radish (L, G)

Dessert
Chocolate brownie and marinated mango (L)
Coffee & tea 4,80€ / Person
Our buffet menus are available for parties of 30 or more guests. If you have any special requirements, please contact us directly for a quote.
The minimum spend for Merisali is € 8,000. If the total cost of the food and drink consumed is less than this,
the remaining balance will be charged to you as a venue hire charge. The minimum spend in Sun Marine is € 5,000.
Our invoice will be based on total guest numbers confirmed 4 working days before your event.
All prices are inclusive of VAT. The prices for food and non-alcoholic beverages include VAT at 14%.
For all other items, VAT is charged at 24%.
Our prices are valid until further notice and we reserve the right to make changes at any time.